Tesco, H&m, Skyku, qvc; The most famous online stores that use the virtual fitting rooms.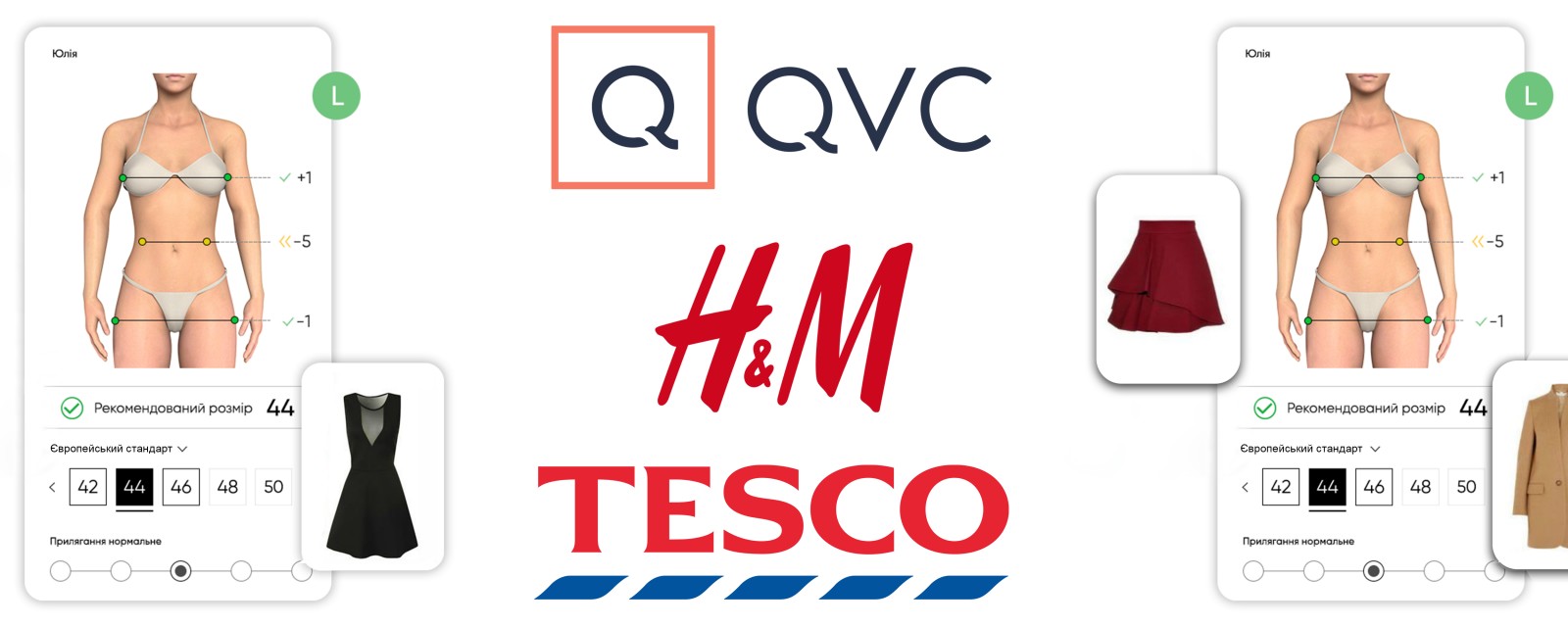 What is virtual fitting room?
In this world of technology and internet, everything is available in your smartphones in just clicks. Because of fast and busy life, a new technology i.e. Virtual Fitting Room was launched for the ease of customers. Like physical store room, online virtual rooms are designed where you can try different items of your choice. No touching of items in the era of Pandemic, no again and again physically changing the dresses. All this is only possible through Virtual dressing room technology. It aims to provide you with real time shopping environment virtually.
After the invent of smartphones, people got eyes on the virtual fitting technology in 2010. But after the Corona situation, many retailers and companies working hard to provide the customers with elite shopping experience virtually. Who doesn't want to buy exact size and styled dress in just few clicks. Want the best shopping experience? Then you should read this article and must try LookSize whether you are retailer or a customer.
Why virtual fitting rooms are popular?
As in this busy world, everything is shifted to your mobile screen. So many stores launched their websites for online shopping, but many size issues still remain. For example, every brand has its own Small, Medium and Large size criteria. Like if I use to wear M but some other store's outfit fits me in L size. So return ratio, delivery time and hassle will create a mess. A retailer can also lose its loyal customer because of the misfit.
For this reason many companies add the feature of virtual fitting rooms into their apps or websites. So the customers can easily try whatever they want to buy and choose what suits them the most. This removes the inconvenience customers were facing back in the days. And they without wasting time and energy can buy their favourite garment. This contactless shopping makes companies and customers, both comfortable with each other.
The research of Virtual Fitting Room says that from 2020, it did more than $2.7 Billion in sales. If its popularity increases then this number will go up to $12 Billion in the next 10 years. People around the globe are keen to use virtual rooms as LookSize customers are also growing day by day.
Tesco, H&m, Skyku, qvc virutal fitting room; Advantages and disadvantages
Many retailers and companies made their ways into the world of virtual fitting rooms. It not only enhanced their businesses but also made their reputation as one of the largest and best service oriented companies.
Tesco virtual fitting room
In this race of highest service quality, Tesco also introduced Virtual dressing technology. As it is a UK based company that uses virtual fitting room service, it is very popular in London and other countries. You just need to upload your two full length photos along with face. A digital avatar will made to try outfit on it.
Pros
• You can try different items of your choice on a 3D avatar of your size. Tesco also recommend the best fit dress for you according to the details you provide.
• You can also check that which hairstyle suits you the most and which style will best for your personality.
• You can also share your online look with your friends on Facebook.
• In the trial version you can choose from up to 50 items per season and more 10 dresses will added weekly.
Cons
• No calculated measurements are added to profile, the software only guesses the outfit by the pictures you uploaded for 3D model.
Virtual fitting room h&m
H&M is a German based retailer that collaborate with NeXR technologies to provide a Fusion III body scanner facility to the customers. It provides a virtual dressing room experience to the customers by scanning their body through webcam.
Pros
• A digital twin/ avatar with exact measurements is created by the scanners. You can try whichever outfit you like and check whether it goes with your look or not.
• You can try more than 30 items from the new arrivals on your 3D avatar.
• The two main stores of Berlin and one Hamburg store will provide you with this technology.
Cons
• You can only use it from the home after the store timing closes.
• Customer can try lesser number of apparels.
Skyku virtual fitting room
Its only been a year that Styku has come into the virtual fitting technology world. The Skyku has Kinect based system to measure the exact size of customer. You have to stand still for 5 seconds in front of Kinect Camera and it will take your overall picture. Then your raw data is converted into exact measurements of chest, waist and shoulders etc.
Pros
• Measurements are made by taking picture with the cameras, that will be exact and final.
• Suggestions are also given according to your size and which item will suit you the most.
Cons
• You have to go to the store for all your measurements.
• It is not an online based shopping portal.
Qvc virtual fitting rooms
The Qvc is also steps into the virtual shopping experience at the Mall of Berlin. The Qvc virtual room invites every body to try what fits them the most.
Pros
• The screened mirror is displaced that display your overall look projected with the dresses and items, you choose from the online store.
Cons
• The screened mirror cannot measure your exact size and there may be a chance of wrong dress size delivered to you.
• Other usability issues also occurred because Qvc is in developing stage.
All these are famous retailers that use virtual fitting room but unfortunately they cannot meet the standard of LookSize.
Why online stores should use Looksize online fitting rooms?
You can solely use the LookSize virtual fitting room by sitting at your home. You do not need to visit any store for your size and measurements.
Nowadays people all over the world prefer to do online shopping but they are little bit confuse of the sizes different brands shown on their sites. Looksize resolve all these issues because it takes your measurements and checks them with the size of the dress available at any website and give you suggestions regarding any item available.
This not only reduce the time spend on shopping but also increase the sale conversion to the maximum level. LookSize is more likely to increase the conversion rate by 25% and minimize the item return rate by 32%. Just one click and accurate size of garment will be available for you to shop.
Looksize not only benefits the customers but also retailers because it increases their sale and reduces fatigue of changing the dress size and delivering it again to the customer. So do not lose your customers from now by using LookSize. LookSize is like heaven for both retailers and shoppers.
Benefits of using Looksize virtual fitting room
The LookSize is both customer and seller oriented. As a retailer if you are using LookSize, it gives you maximum conversion rate and lowest return rate possible. And if you are a customer than you should believe it completely for the sizes of items. Once you start using it, you will get many benefits like
1. No need to send your pictures, if you are concerned with the privacy. Just add your profile by providing with some measurements and enjoy your model.
2. Its easy to use and safe. You can start using it in less than a minute on a desktop or on the phone.
Popular brands who use Looksize virtual fitting rooms
As of today almost than 3000 brands are in our database including famous brands like Michael Kors, Adidas, Converse, Casmir, Bon prix, Nike, Zara, Puma and Giorgio Armani etc.
How to run a virtual fitting room in your own online store
Whether you are retailer or running a small company; you can easily use Looksize virtual fitting room for your business. Just register yourself into the Looksize by clicking "Try Virtual Fitting Room". You have to fill the form that requires; Name, email, phone number and URL of your store. Submit the form and enjoy free trial version.
Affordable price
As you can use trial version for free for you r satisfaction, whether you are owner or a customer. After the free trial you can buy the Looksize in very affordable prices.
Different price plans are available, now its your choice to choose which one is suitable for you.
Our contacts.
You can not only email to the support for any query but also call us on the landline number for details. Our contacts:
Support:
E-mail:
support@looksize.com
Phone:
+1 (416) 848-4067
Sales:
E-mail:
sales@looksize.com
Phone:
+1 (416) 848-4067