Digital Fitting Rooms: Improve the Quality of Customer Service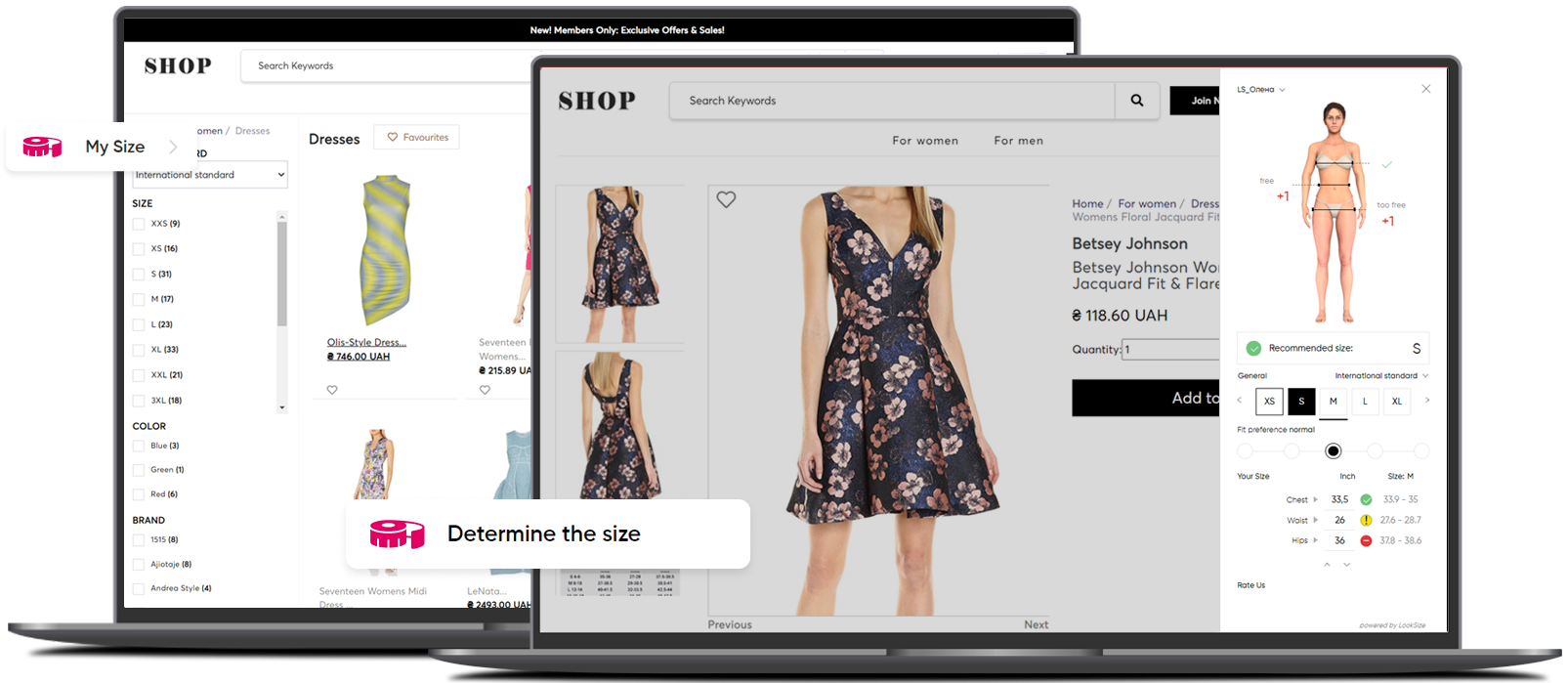 Virtual Fitting Room
Virtual fitting rooms are one fine invention of mounting technology. Don't worry; if you have never heard about virtual fitting rooms online, we are here to exhibit the best. Just keep reading if you want to simplify your future shopping experience with the eternal comfort of home.
Does the latest tech inspire you? Like, how do these online things work? Hacking, shopping, searching and working. Everything seems to be online these days. And thanks to the pandemic, we know how to survive without going out now. For most of us, along with all other things we need to stay, one most important amongst them is "shopping." Yes, how could we survive without that too? While shopping online for clothes, sunglasses, shoes, or any other accessories, the first thing you want to do is grab it and try it. But unfortunately, it seems to be difficult when you shop online—one of the most significant downsides to shopping from the comfort of your home. But not anymore; this is precisely where smart fitting rooms come to business.
Virtual fitting rooms serve to try on different products virtually before purchasing them. LookSize is exactly for this purpose. LookSize makes it easier and peaceful for shoppers to find the perfect fit and it also simplifies the life of vendors by reducing exchange and return ratios. We know that you are hesitant to shop online as someone can't guess or see how their purchasing will look at him/her. That's why we will introduce you to "LookSize", which will help you see your outfit's appearance digitally. Yes, you don't need to go anywhere to judge it. Our LookSize will let you see your purchasing fit and sizing from the comfort of your home.
Besides this, online stores can easily install our solution to stand them unique in the virtual selling world. It is available at very inexpensive rates compared to our competitors.
Let's look at what this product is and how it works. But before that, we would like you to be familiar with the new technology of digital fitting room so that you can clearly understand what technology lies under our LookSize and how it can serve you.
What is a digital fitting room?
Digital fitting rooms are a huge compliment to those who can never satisfy themselves without trying on apparel. And to those looking for adapting and evolving with the new and latest tech to bring their brand into the limelight. When shopping online, what matters the most? Like, what are the concerns of shopping online? Let's take a look at the shopper's perspective, as well as the seller's perspective:
• Seller's perspective:
Do you want to increase the income and reduce the return ratio of sales? There is a simple and sophisticated solution: a digital fitting room.
• Shopper's perspective:
Do you want to shop online in the comfort of your home? Are you fed up with going to the store and trying on ten products before you purchase your dream apparel? Then you have to look up virtual fitting rooms.
Why should online stores use digital fitting rooms?
In the last decade, the online shopping has significantly increased. Not just because of COVID-19, but the reason is also youths and adults' interest in tech-oriented brands. Going out for entertainment is another thing, but going out and trying swapping dresses or shoes 100 times to buy one pair of perfect shoes or one perfect party wear, is quite hectic as well as frustrating. To avoid this hassle, many people prefer online shopping. And this is exactly why online stores should use digital fitting rooms. Because customer satisfaction and requirements are the priority for any brand. And if you fulfill them nicely and successfully, you are getting the most loyal customers.
Retailers are now looking at online digital fitting rooms to increase their business and bring their brand into the limelight using the latest technology. It is an excellent opportunity for retailers to improve their customers' shopping experience and raise sales as a result of a digital revolution in the retail sector. Smart fitting rooms are an innovative technique to ensure that the customer has an authentic experience.
How using smart fitting rooms can increase the quality of customer service?
Fitting rooms should be integrated into your store's overall look and feel so that customers feel at ease and more likely to buy.
Investing in a high-quality fitting room is, therefore, a wise decision. Shoppers are more likely to take advantage of the fitting room experience and make more purchases when the experience matches your store's dedication to customer-centric quality.
When an online store has smart fitting room installed then user will just have to enter the store, choose an apparel, and click the option to try-on. After that, LookSize will ask for your height, weight and will take all exact approximate measurements of your figure. After your measurements are saved, it's very simple to move on to next step and try-on your favorite apparels. The LookSize tool will keep guiding you and you just need to follow the guidelines to find yourself a perfect fit. This is exactly how using smart fitting room like LookSize could help increasing quality of customer service.
LookSize virtual fitting room
LookSize smart fitting room is here to help with online shopping problems. A perfect invention for retailers as well as shoppers. Whenever someone is shopping online, he/she wants to try the product on, to know for sure that spending thirty bucks on this product will not go in vain. And while you are shopping in-stores, although it's possible for you to try on different things, who likes to swap clothing for like ten times, right? That's precisely the purpose of LookSize. To reduce the hassle of trying-on different products physically, and for retailers, to facilitate return or exchange ratio of sold products, because it drops the product's value if it's brought back to display after a week.
• Technology behind LookSize
Imagine walking into a clothing store that has been personalized to have only clothes of your exact size. Our revolutionary my size button has been tailored to perfection to determine the required size. the user only needs to open the widget and use one of the three sizing methods;
1. Weight plus height: Just enter your weight and height measurements and leave the rest to us. Our algorithm can easily fill in the parameters required for determining your size.
2. Existing clothing: The second option is to use your existing clothing. Select the brand and size you're wearing, and our unique technology can determine your size in seconds.
3. Body parameters: For the best precision simply use a measuring tape and enter the necessary measurements in the fields. Provided instructions are included on how to take your measures. Size fitting happens in seconds as the widget only displays the body parameters that are required for the selected type of garment.
The entire process is simple and quick. Enter your data once, and the widget will remember your measurements. And if necessary, you can edit them at any time at your convenience—no matter what type of clothing you buy; outerwear, swimwear, lingerie, or shoes. The exact size shall be determined for every item. We process this information from brands and stores in any format in standard sizing charts, finished product parameters, and any other standards. Our widget easily integrates into any modern CMS. The buttons and devices can be personalized to any style and color of the site.
To integrate the service, the store owner just needs to copy and paste the script into their site. Such actions can be performed by anyone with the rights of the site administrator.
• Why should you choose LookSize?
LookSize is a universal solution for retailers looking for ways to increase their revenues and reduce their exchange or return ratio. And for the shoppers who want to shop their favorite apparel by just sitting on the couch and being assured of getting a perfect size.
LookSize helps retailers and shoppers in a beneficial and sophisticated manner. Shoppers can now find the perfect-looking apparel with perfect size without being terrified of how it would look on them. LookSize also helps retailers increase their business by making themselves more competitive in the marketing world. When retailers have LookSize virtual fitting rooms installed in their stores, they can avoid the hassle of returned items by shoppers who found ill-fitting apparel and ultimately had to return it. This kind of experience reduces the product's value because it was missing from the display for a whole week. As well as the reputation of the store gets ruined because intentionally or unintentionally, a shopper wouldn't want to shop again from the store that sends ill-fitting apparel or just because it didn't look good enough. A few of the many benefits of LookSize interactive fitting room are:
- Safe, sound, and favorable shopping solution for customers
- Increased conversions rate by 25%
- Reduced returns rate by 32%
- Get you loyal customers with better communication
- Thousands of brands size charts
- Increased excellence
And many more!
Once you get a free trial of LookSize, you will get to know why it was the best decision of your life to choose it.
• Price of LookSize for different stores:
If you are looking to get your smart fitting room, you are looking at the right place. At LookSize, we provide you with the best services within a reasonable budget. And the amount you pay will be worth it. We have flexible pricing plans that will fit any type of store.
We have medium and big plans for medium, average-sized stores, and big businesses and stores, respectively. Let's look at pricing; I'm sure you won't be disappointed.
• Free trial period:
If you are still confused about whether or not you should buy LookSize, is it even worth it or just a waste of money? Then you need to avail our free trial. Try a free version and look for yourself; why is it worth your money? Because we care for our clients and your satisfaction is our number one priority.
• Clients of LookSize:
You are right to do complete research before you start thinking about getting LookSize. But to ease your decision, you can have a look at our website and the clients we are working with. So far, we have hundreds of loyal and satisfied clients who are happy with this experience. Some of those are here (our clients):
• Sales and customer support:
If you have any queries, or you have finally decided on using LookSize, you can contact us for more details and any information. We are always at your assistance.

Sales:
E-mail: sales@looksize.com
Phone:+1 (416) 848-4067
LookSize-Virtual fitting rooms are the greatest and most convenient shopping solution for people who aren't used to going out shopping anymore. Or they are tired and sick of changing ten products physically before buying one. If you are hesitant while using changing rooms at stores, or scared of going out in the open due to a pandemic just to shop, then you are lucky to be here.
Open your doorway to smart fitting rooms, and you will never be disappointed or have to regret your decision again after shopping online. Just knock us and have a good purchase!